Room types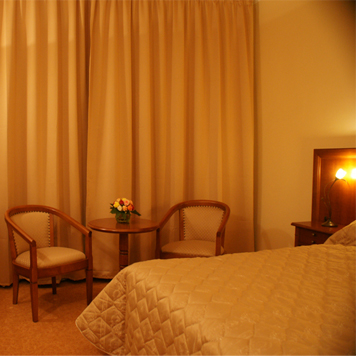 Double Room
Decorated in classic style, the rooms are comfortable, equipped with modern facilities and an air conditioning system. Rooms have a matrimonial bed, free wireless internet access, work desk. Bathrooms are equipped with a large mirror and shower. Rooms have a view towards the interior terrace or towards the Victor Babes street, both options having a d panoramic view over the city.

Wi-Fi

Wireless (wi-fi) connection is available within the hotel free of charge, in the rooms there are cable connections if needed. In this way, you can easily keep in touch with your company of business partners for the entire period while you stay at our hotel.

LCD Television

All rooms of the Hotel are equipped with ultra-thin LCD TVs with a 66 cm diagonal, these TVs being connected to the local Digi TV network.

Access cards

Keys are a thing of the past! All guests of the hotel have access to their rooms based on a digitally coded access card, this being issued at the reception of the hotel in the moment of check-in.